Design5mm

has created

design with

easy installation!
​
Wall design:
On the back of the felt design are self-adhesive velcro strips that can be easily
attached directly to the wall. The design can also be screwed or glued to the wall.

Hanging room divider:
Felt design hung from hooks or curtain rail in the ceiling using steel cable and
small wire locks.

Floor screen:
Felt screens are supplied ready to just put out on the floor.

Roof mobile:
Attach a hook in the ceiling and hang up our simple acoustic mobiles.

Desktop Screen:
Felt design mounted with carriage bolt through the felt and attached under the desk with angle iron. Angle hinge is not visible and the screen stays put.

Silencing of furniture:
Felt can be attached under tables, desktops and chairs for example. Cut the felt with scissors or knife to desired size, pull off the protective film and attach.
Felt on the back of the cabinet can be attached with self-adhesive velcro or with glue.

Contact us at info@design5mm.se if you have any questions.
​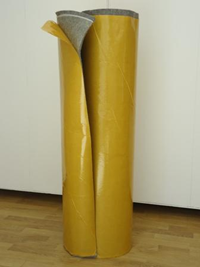 Self-adhesive velcro
​